Our Chapter's Philanthropy Events
Teeter-Totter-a-Thon
One of our biggest philanthropy events is our annual Teeter Totter-a-Thon,
during which we teeter-totter on our chapter's own see-saw for 48 hours straight
in front of Hollinger Gym. Each sister takes a 2 hour shift. We raise money for our
Alpha Phi Foundation through sisters raising money as well through donations. Last
year we raised over $1,500 for this worthy cause.

Greek Night Live
Greek NIght Live is sponsered annually by Alpha Phi. It's the greek version
of Saturday Night Live. Every sorority and fraternity makes up and preforms a
funny skit. We raised over $500 last semester for the Alpha Phi Foundation.

Ronald McDonald House
The sisters of Alpha Phi volunteer their time making baked goods for the families
and children that stay at the Ronald McDonald House. We also collect soda can tabs
and donate them to the Ronald McDonald House, to be recycled for money.


"To date, more than 10 million families with sick children have called a
Ronald McDonald House a "home-away-from-home," saving them over $120 million in
housing and meal costs. Over $320 million dollars in grants have been dedicated
towards making an immediate, positive impact on those children who need our help
most. And more important, countless smiles have been shared, lives have been
touched, and connections have been made."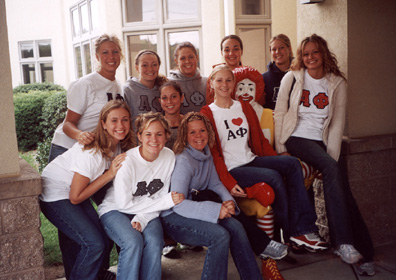 The girls of Alpha Phi at the Ronald McDonald House
October 20, 2002
Keim, Kristin, Lara, & Maureen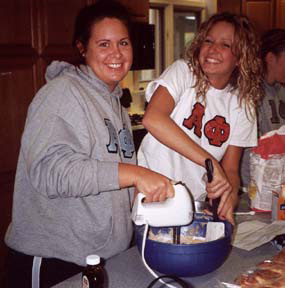 Karen & Jackie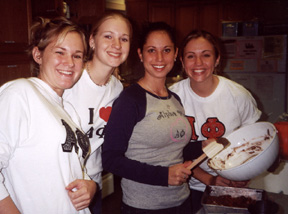 Allison, Sarah, Heather, & Abby



Trick-or-Treating for UNICEF
We Trick-or-Treat yearly for UNICEF, with another fraternity at WCU. The money raised
goes to UNICEF and helps those less fortunate than ourselves. The event takes place the Thursday
before Halloween throughout the town of West Chester.
Dance Marathon

This year's Dance Marathon was a great success. The entire Greek System participated and we raised
over $13,000 for Camp Dream Catcher, a day camp for childrens whose lives have been touched by HIV/AIDS.


*Also, many sisters volunteer their time thoughout the year participating in various on and of-campus philanthropy activities.*

Where does the money we raise go....



The Alpha Phi Foundation
The Alpha Phi Foundation was formed to support Alpha Phi's and others in need and to express the philanthropic spirit of love and charity intended by the founders.

The Alpha Phi Foundation supports the following programs:

The Forget-Me-Not Fund
Assists Alpha Phi alumnae facing grave health problems, natural disasters, or other financial crises.

Emergency Aid
Assists undergraduate Alpha Phis facing grave health problems, natural disasters, or other financial crises.

Financial Scholarships
The foundation awards $100,000 in scholarships for undergraduate and graduate members, to assit in funding their studies.

Professor of the Year Award
Awards one professer annually with $2,000 honorarium, $1,000 to the University he/she teaches, $250 to the Alpha Phi who nominated the professor, and $250 to the chapter.


Cardiac Care Research

Alpha Phi has focused on heart disease and cardiac care as a philanthropic priority. Today research into the diagnosis and treatment of women's heart disease is a special interest of the Alpha Phi Foundation. Gender differences in diagnosing and treating cardiac health problems are becoming widely recognized and the cardiac research grants awarded by the Alpha Phi Foundation are making a difference for thousands of women.

If anyone has any fundraising or philanthropy ideas,
please contact our Director of Philanthropy, Jaclyn Carroll!!

---

Phi-Phacts * Sisters * New Members * Family Tree * Pictures
Phi-lanthropy * Sweetheart * Sister Schedule * Holiday Date Party * Birthdays
E-mail * Alumni * Scholarship * History * WCU Greek Life * Rush Alpha Phi